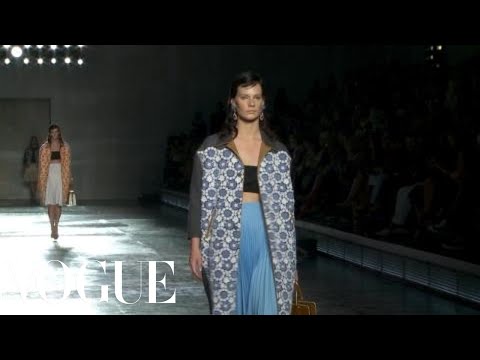 Through every collection, a designer reveals a muse, his or her idealized view of what a woman should be. Some have a very defined woman in mind and others change season to season; the Prada woman is an eternal chameleon. Many of the S/S '12 collections redefined classic themes in womenswear, adding some interesting plays on societal implications. This was particularly true for Prada S/S '12 (Below).


The icons of midcentury American fashion endure as the embodiment of what we consider womanly-Marilyn Monroe and Elizabeth Taylor wore clothes that shaped their bodies in a way that not only emphasized their feminine attributes, but also projected them with low cut, a-line silhouettes cinched at their hourglass waists. That proportion (Above) and the concept of what is typically "female" was woven into Miuccia Prada's collection with a feminist undercurrent.


"Sweetness" and the car culture that was a staple of the 1950's in American society was ever present (Above). There were schoolgirl pleats and lacy florals that could tame any Rebel Without a Cause. Bettie-Page-worthy bathing suits and high-waisted skirts with bandeau tops that were perfect for a stop at the drive-in (Below).


Prada was so literal in her interpretation, putting Cadillac prints on dresses and bags, making leather skirts like the front seat of a car, and detailing shoes like metallic, flame-spouting hot-rods (Below). The sexualization and gender assignments of consumer products is suddenly brought to attention by Prada's work. In classic movies of that era, cars are often referred to as "she" and treated with love and an infinite attention and care. While literal, these pieces maintain a sensitive touch.


What can this mean other than a direct argument against the objectification of women? In his review of the collection for Vogue.com, Hamish Bowles wrote that "her hot clash of intellectual impulses roared up the runway as a collection about cars and women, which, of course, is stereotypical, sexist shorthand for the way dumb men brag about the two things as if they're trophies. A joke, of course, because when Miuccia is this revved up, it's always about putting women in the driver's seat."


Prada made her muse a car this season, to make her female client aware of how she is an "object" of beauty as much as a car is. In primping and preening (and buying Prada), she is much like the man who endlessly cares for his cars. This collection is an "F You!" of sorts to those who will say fashion is for the woman who cannot be taken seriously, or who is unintelligent.


The Prada woman is aware that her fabulous clothing may make others uncomfortable, but this season, she fights back hard… with pleats, prints and pretty flowers.
Images: vogue.com