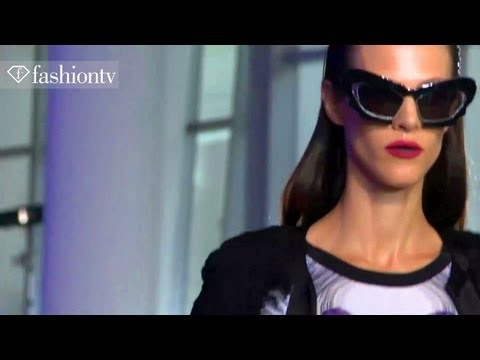 For years, I have wondered what all the incessant fuss was about with respect to Prabal Gurung. Yes, his streamlined silhouettes have appeared on many a red carpet. Yes, American fashion magazines had an obvious love for his handsome visage and, well, his somewhat obvious, lady-like clothes. Oh, and there was that rather famous lady champion of his: the first lady, Michelle Obama.

Arguably his most notable supporter, Michelle put Prabal Gurung on the mainstream map (via her now-defunct relationship with Chicago-based retailer Ikram Goldman). Like Proenza Schouler, Prabal Gurung is not an easy name to remember, much less pronounce correctly, but Michelle seemed to wear his wares quite a bit, and the designer naturally received a good amount of attention in return.
Mostly, though, I've found his work a bit too reliable. A bit predictable. A bit, to be honest, boring.
His S/S '12 collection, however, was an all-out revelation: an exciting, ebullient evolution. Sheer panels, vivid prints that were at once neither too passive nor too aggressive, harnesses (courtesy of Zana Bayne), and a palette as arresting as it was perfectly wearable. These elements made for a collection that took Prabal far from his comfort zone of red-carpet-ready eveningwear: he made a statement, and he made it loud and clear.
I could have done without the textural embellishments–the feathers throughout lent an unpleasant dissonance to the contrapuntal impact of structure, silhoutte, and those prints–but by and large it was an unimpeachable lot of clothes. Prabal clearly knows how to cut a pant (and a jacket), but his greatest successes were the dresses: Karlie Kloss in a graphic gown of sheer panels and slits, Frida Gustavsson's closing gown and its psychedelic patternmix.
Here's to hoping Prabal makes a similarly spellbinding showing come February. Chances are, if the boywonder can get my attention with a Spring collection, I'll be downright drooling for Fall.
Images: NY Mag